Combined action heaters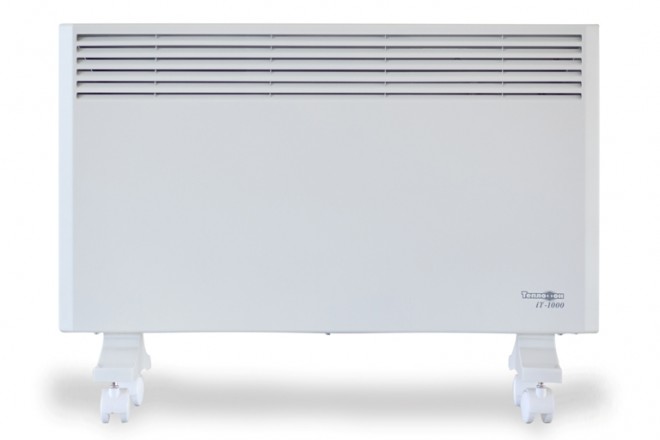 Product is patented
Combined action heaters are intend for the main or additional heating of housing, public, administrative and residential premises.
Dimensions are specified without feet.
Main advantages
Intelligent format
Modern design
Existence of wall and floor option
3-year warranty
Service life of 10 years
Heaters Teplofon iT, Teplofon MT, «Breeze».
There is electronic programmable thermostat in heater. It determines the room temperature with the built temperature sensor and performs automatic switch of heater. That is how the desired temperature is carried out in the room without extra cost of electricity.
The thermostat has three basic modes: "on-call", "hand", "program."
On-call mode - the thermostat off mode in which the instrument produces only measurement of the ambient temperature and displays the current time.
Hand mode allows you to directly enter the desired temperature, to automatically maintain it in the room.
Operating mode "program" allows you to set different temperatures for different time intervals daily and weekly cycles, automatically maintain the temperature of the heated environment, according to a user-defined program. This allows maximum electricity sparingly.
| | | | | | | |
| --- | --- | --- | --- | --- | --- | --- |
|   | | | | | | |
| Model | Теплофон iT 1,0 | Теплофон iT 1,5 | Теплофон МТ 1,0 | Теплофон МТ 1,5 | Теплофон МТ 2,0 | Set plastic feet for Teplofon iT, MT |
| Recommended price, rub. | 3 890 | 4 290 | 2 530 | 2 990 | 3 490 | 390 |
| Power, W | 1000 | 1500 | 1000 | 1500 | 2000 | |
| Voltage, V | 220 | 220 | 220 | 220 | 220 | |
| Temperature, C | 90 | 90 | 90 | 90 | 90 | |
| E. protection (Class) | I | I | | | | |
| Weight, kg | 5.00 | 6.00 | 5.00 | 7.20 | 7.00 | 0.41 |
| Overall dimensions, mm | 700х400х295 | 900х400х295 | 700х400х295 | 900х400х295 | 900х400х295 | |