Ceiling guild IR heaters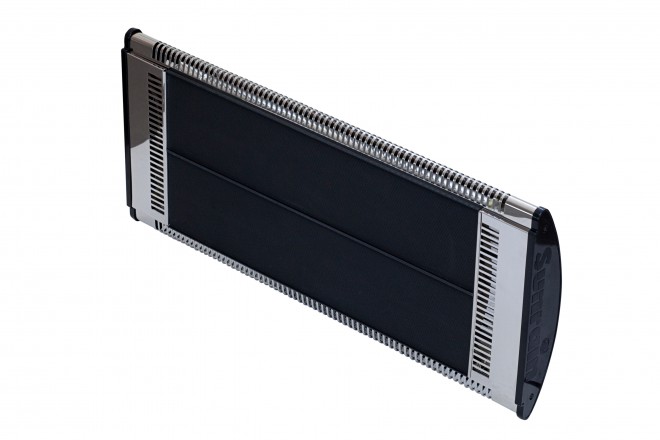 Product is patented
Industrial heaters of Sunrain for rooms more than 3,5 meters high
Main advantages
The reflector is made of the anodized aluminum
Not afraid of corrosion
Consistent connection of several devices
Sunrain Heaters are intended for the main and additional heating of public, administrative and household places, and also for heating of manned rooms which aren't intended for household use. For example shops, production shops, warehouses, sports constructions, at the industrial enterprises and objects of agriculture, with height isn't lower than 3,5 m.
Its heat not air, but surfaces and subjects which are in a zone of its action, like floor, walls, and people. At this way of transfer of heat costs on heating significantly decrease as there is an optimum distribution of temperature, and also the general decrease in average temperature without comfort loss.
Sunrain Industrial heaters are presented in four models: 1000, 1500, 2000 and 3000 W. Heaters are set on ceiling, without occupying space of walls. The design-technology group "Teplofon" conducted researches on improvement of the heatgiving properties of the heating panels of industrial heaters. Through the use of the front side of the high-temperature paint and increase the emissivity coating panels significantly increased the heat-transfer properties of the heaters.
 
Model
Sunrain ЭРГНА 1,0 T

NEW!

Sunrain ЭРГНА 1,5 Т

NEW!

Sunrain ЭРГНА 2,0 Т

NEW!

Sunrain ЭРГНА 3,0 Т

NEW!

Recommended price, rub.
3 590
4 590
5 990
8 890
Power, W
1000
1500
2000
3000
Voltage, V
220
220
220
380
Temperature, C
300
300
300
300
E. protection (Class)
Weight, kg
6.50
9.00
11.40
15.00
Overall dimensions, mm
792х344х86
1092х344х86
1392х344х86
1473х486х107