Method of heating
Heat radiated from its hot surface, is vital to all life on earth.Infrared rays of the sun have a long way in space with minimum energy loss.When the beam path meets the surface, their energy is absorbed, transformed into heat. Heated objects in turn give off heat the air around us. Despite the fact that the sun is so far away from us, its rays heat the earth, while the space is cold. Natural heating type has no equal!
Infrared heaters Teplofon and Sunrain firm have the same effect as the Sun, being the most convenient and economical of all possible sources of heat. We offer infrared heaters for all types of premises..
Heat — like from the sun
The thermal energy radiated by the device is absorbed by the surrounding surfaces, such as floors, walls, furniture, etc. heating them. By the way they give heat to the air. Thermal radiation, like a regular light is not absorbed by air, so all the energy from the device without loss reaches the heated surfaces and people within its operating range. This allows you to align the air temperature adjustment and reduce the average temperature in the room, because people will feel more heat due to direct absorption of energy from the device.Recall that the temperature drop of 1 degree provides 5% saving.
Optimal distribution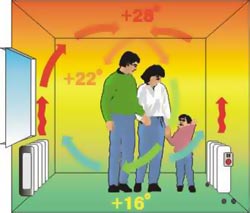 Traditional (convective) Heating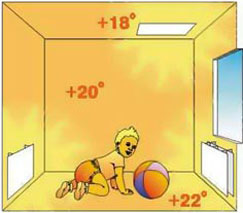 Infrared heating
When using convective heating systems we face that fact that air temperature changes on height — the most heated air accumulates at a ceiling.
Infrared heaters allow to avoid similar irrational distribution of temperature and to reduce thermal losses. Thus there is no excess heating of air, there is an alignment of temperature between a floor and a ceiling that allows to provide to 40% of energy saving
Zone and dot heating
Infrared heaters are the only type of heating devices allowing to carry out zone or dot heating.In case of zone heating in different parts of the room different temperature can be supported. Point heating considered placing devices on separate place without heating the whole room.
No drafts
Uusually person feel discomfort when situated in area with low thermal insulation (example: near the window). Infrared devices installed in these areas help to guarantees the absence of drafts and to compensate for heat losses and to provide comfort.
Additional opportunities:
Temperature indoors is easily regulated and precisely supported at the set level at its uniform distribution that provides comfort.
The subjects surrounding us have warm surfaces.
Are convenient as sources of additional heating
Heating of open areas.
Perfect control system
Electronic systems of automatic control with which infrared heaters can be completed to control process of heating of rooms both on temperature, and in time and to save electricity (30%). Exact adjustment allows to avoid allocation of excess power and provides special «softness» of work of a heating system.
Practicality and profitability
Minimum of capital investments: For installation of system of infrared heating we need a minimum of time and means. Infrared heaters Sunrain and Teplofon allows to refuse from water heating. In case of moving you easily remove and take devices with yourself to install them on a new place.
Installation on a ceiling: Installation of infrared heaters on a ceiling or on a suspension bracket allows to keep walls and a floor free. In case of increased requirements to design of room, problems of heating are elegantly solved by installation of devices in a false ceiling and over window openings.
Profitability: The economy in comparison with convective heaters reaches 20-35%.
Safety
All heaters of Sunrain and Teplofon are made of environmentally friendly materials, are fireproof, resistant to mechanical damages and resolved as the main heating without supervision. All devices have certificate of conformity.